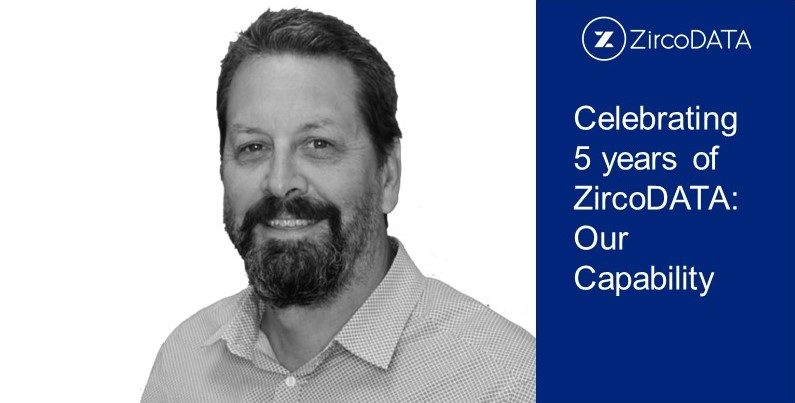 Spotlight on capability with Wayne Allen, Chief Operating Officer
While ZircoDATA has provided secure document storage and records lifecycle management since 1995, through the month of November we are celebrating 5 years of the ZircoDATA name and brand. We thought, what a great opportunity to take a deeper look within ZircoDATA with 5 questions for 5 years.  
Here, we explore capability with Chief Operating Officer, Wayne Allen, the scale of our business and how technology helps deliver greater efficiencies for over 3,000 businesses that trust us with their critical information every day.
What kinds of customers does ZircoDATA service? 
ZircoDATA works with companies of all sizes from a variety of industries including finance, medical and health, government, accounting, legal and education. We partner in supporting them in meeting their business and legal obligations in records and information management (RIM) throughout their lifecycle. When we say lifecycle, we mean from when a record is created (for example, a medical document or accounting paperwork through to implementing a Record Management System that ensures chain of custody) to when it is securely shredded. 
2. How would you describe the scale of ZircoDATA? 
We are Approved Office Records Storage Supplier (APROSS) compliant, and manage and maintain high quality, safe and secure Record Centre's for the storage of customer records and information. 
In terms of scale across our business, some information that helps provide an idea of our size and what we deliver for our customers includes: 
Storage capacity of over 12 million standard archive carton equivalents;  
More than 56 million items are stored within active file storage; 
Manage secure destruction of over half a million items every year;  
Process more than 75,000 scanned images daily.  
3. How has ZircoDATA's capability grown and evolved over the last 25 years?
Like any business, we have and will continue to evolve and deliver solutions based on customer needs and market changes. Our capability has grown thanks to listening to our customers and responding to changes in the industries we serve. We have amazing talent and expertise, plus team members that bring new ideas from their varied experiences, and a mindset for continuously raising the bar.   
Our capability has evolved from "beyond the box" that transformed a traditional service of collecting and storing records and information to providing services that align with the records and information lifecycle from information governance to secure storing and digitisation to destruction.  
All ZircoDATA customers can also access our secure web-based customer portal, ZircoBRIDGE. With ZircoBRIDGE, customers can coordinate and manage all their information and retention requirements, both physical and digital, throughout their lifecyle. 
4.  What sort of digital services does ZircoDATA provide? 
Our digital services align with the changing landscape of information and records management, and we work with our customers in delivering the best solution for their needs. 
Through Document Scanning we create digital archives of customer records and information and transform what can be scores of paper documents into easily manageable digital images. Document Scanning is becoming increasingly popular with customers as hybrid work environments and a need to be able to access information quickly and from different locations becomes more important. We offer a Scan on Demand service for when documents are required urgently. We can locate a hard copy file, scan it and electronically transfer the required documents within a 2-hour window. 
Once step further, ZircoDATA can also have mail collected, scanned, sorted, and digitally delivered through our Digital Mailroom. We can even manage mail type subscriptions and do banking on behalf of our customers. 
5. What's next for ZircoDATA? 
It's a great time here at ZircoDATA. Our team is growing as is our expertise. We look forward to not only continuing to deliver and exceed our customer expectations in the services we provide, but also to keep evolving the services we provide as an industry leader.