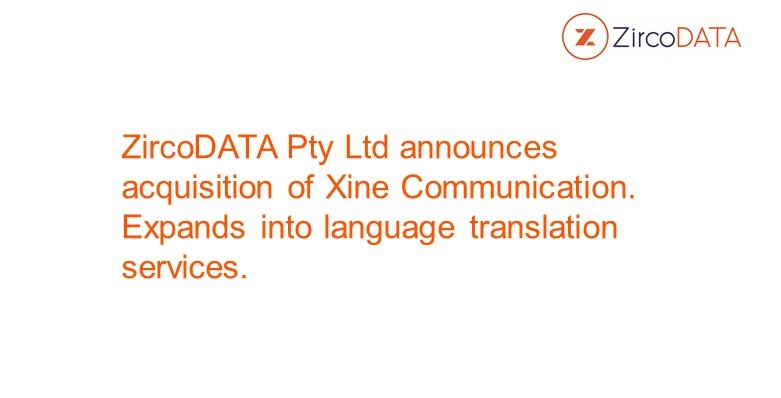 ZircoDATA acquires Xine Communication, expanding into translation services
ZircoDATA Pty Ltd, a leader in records and information management from governance through to storage, digitisation and destruction, announces the acquisition of Xine Communication, one of Australia's largest language service providers. This acquisition extends ZircoDATA's portfolio in conversion services in complementary sectors including financial, government, legal, medical and professional services.
Jacqueline Fitzpatrick, ZircoDATA CEO, will oversee the transition of the Xine business into ZircoDATA, giving ZircoDATA an expanded footprint in the data digitisation arena.
"The combination of Xine Communication with our expertise in records lifecycle management will provide customers of both organisations with a single supplier from translation to records management. This provides significant commercial efficiencies for both organisations' customers" says Jacqueline Fitzpatrick, ZircoDATA CEO.
"We are excited to extend our portfolio to deliver translation, interpretation and glossary development services. As a trusted provider of document and information management for over 25 years, adding translation to our conversion services is a natural fit. It is also a fantastic opportunity for both ZircoDATA and Xine Communication customers to experience the complementary nature of the services we provide, delivering greater efficiencies and improvements to their management processes", says Fitzpatrick.
For more information on Xine Communications translation services, please visit www.xine.com.au
For media enquiries, please email Michael Quillerat, Head of Marketing at marketing@zircodata.com.au