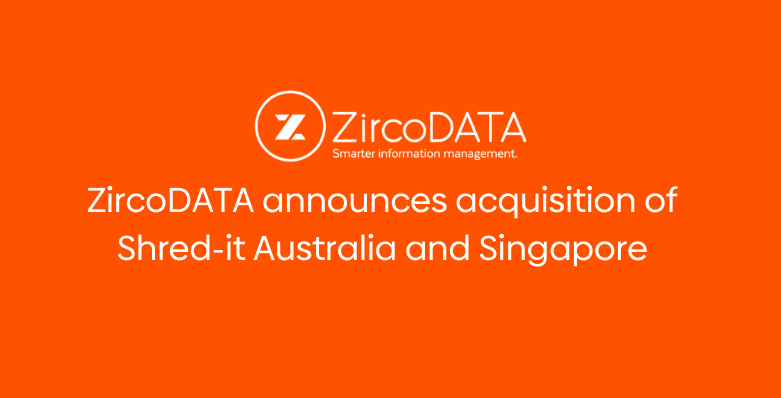 ZircoDATA Expands Its Global Reach Through Acquisition of Shred-It Australia and Singapore
May 25, 2023 – ZircoDATA Pty Ltd, a leader in records and information management spanning governance, storage, digitisation and destruction, today announces the acquisition of Shred-it Australia and Singapore, further bolstering their leadership position in the Records and Information Management (RIM) industry. The union of the two companies will combine their expertise and experience to enhance service and operational capability for their customers.  
Shred-it is one of Australia and Singapore's most preeminent providers of secure document shredding, secure bin services and IT Asset disposal. This acquisition expands ZircoDATA's service offering and operating markets, while adding value to existing and new customers from both organizations. 
This acquisition is a strategic move to integrate shred services, a core part of records management, with ZircoDATA's existing offerings, making this combination a natural fit. "Together, we will combine our resources, capabilities, and expertise to provide end-to-end solutions that meet the needs of our customers. This acquisition will be a significant turning point for our businesses and a strategic advantage in the competitive and ever-evolving records and information management industry we operate in," said ZircoDATA Chief Executive Officer, Jacqueline Leeds. 
Beginning business in 1995, with the birth of the brand in 2016, ZircoDATA has remained a market leader and industry trailblazer. With a dedicated team providing RIM services to over 3000 customers, they have constantly adapted to the evolving records management landscape, offering secure document storage, records lifecycle solutions, information governance, digital conversion, and more recently, language services. 
As part of the transition, the Shred-it brand will be phased out in Australia and Singapore in favour of the ZircoDATA brand. The acquisition will also extend ZircoDATA's service locations to include Rydalmere (Sydney), Banyo (Brisbane), Footscray (Melbourne), South Australia, Canberra and Singapore, as well as an expanded fleet of vehicles to service destruction and onsite shredding across the country.  
"ZircoDATA is committed to 'Raising the Bar' for all our customers and the acquisition of Shred-it allows us to bring that philosophy to a new set of customers and stakeholders. We are looking forward to offering both  ZircoDATA and Shred-it's customers a complete solution and high quality of service and customer experience as we combine the talents of both organizations." Commented Leeds. 
According to ZircoDATA CEO Jacqueline Leeds "We have a wealth of talent across both organisations and we will utilize this diverse pool of skills and viewpoints to capitalise on the potential this union brings. The prospect of the opportunities this integration will unlock is truly exciting."  
ZircoDATA is excited about this significant transformation journey, always striving to provide the best services for its customers while fostering a spirit of collaboration, innovation and excellence within its expanded team. 
For more information, please visit the ZircoDATA website or contact our media relations department. 
About ZircoDATA: 
ZircoDATA is a market leader in records and information management. The business began in 1995, and the ZircoDATA brand was born in November 2016. It has been recognized as an industry trailblazer, adapting swiftly to the ever-changing digital landscape. ZircoDATA provides a comprehensive range of secure document storage and records lifecycle solutions to its customers across various industries. With a firm commitment to data security and a relentless focus on customer satisfaction, ZircoDATA has solidified its reputation as a trusted partner for businesses large and small. 
Media Contact: 
James Davis
Marketing Manager, ZircoDATA Pty Ltd
marketing@zircodata.com.au
www.zircodata.com.au