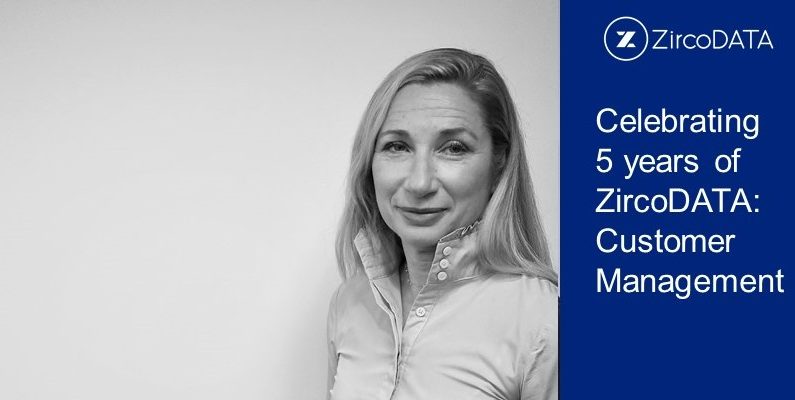 Spotlight on Customer with Tanya Mitchell, Customer Success Director
While we have provided secure document storage and records lifecycle management since 1995, through the month of November we are celebrating 5 years of the ZircoDATA name and brand. We thought, what a great opportunity to take a deeper look within ZircoDATA with our 5 questions for 5 years.  
Here, we explore the customer with Tanya Mitchell our Director, Customer Success, what customer management means to ZircoDATA and the 3,000 plus businesses that trust us with their critical information every day. 
What is the role of Customer Management in ZircoDATA? 
At ZircoDATA, Customer Management is organised across three key areas:  
Customer Success – ensuring customers have a great journey with us from account set-up in our Records Management System and onboarding, to getting the absolute best from ZircoDATA's services. 
Customer Care – each Customer Care Associate represents the voice of our customers across our business, as well as delivery or work orders and issue resolution. 
Contracts & Compliance – matching customers' changing service needs through contract variations, drawing up new contracts and managing the renewal process.  
What does customer centricity mean to ZircoDATA? 
Customer centricity is driven by our customer service culture that we integrate into everything we do.  
Striving for customer excellence is the responsibility of all teams across the business, and revolves around each team member having empathy, listening to customers' needs and delivering the optimum solutions and experience to meet those needs.  
As a business and team, we continue to learn and are constantly raising the bar with process improvements, internal agreement and check-ins to ensure customer success at every opportunity.    
What are the key elements that deliver great customer management? 
At ZircoDATA, our Customer Management teams are guided by five key principles which are non-negotiable and visibly displayed on-site as a reminder of our commitment to our customers every day: 
That every customer interaction is recorded for action and resolution 
To be the voice of the customer and learn from feedback 
That all communication and behaviour reflect a customer service culture 
We help our customers transition and transform by guiding them through their journey with us 
Understand and respect process and compliance  
How do we harness technology to help deliver the best customer experience? 
System integration is critical for efficiencies in promptly responding to our customers and personalising their journey with us. 
We've recently deployed Service Cloud Voice (SCV), a contact centre application, that integrates into our CRM to transcribe and translate customer phone contact as cases.  
Our Customer Care, Billing and Accounts Receivable teams can now see all customer engagement via integrated case history that resolves customer queries even faster. 
If you were to consider the next 12 months, what does customer management look like for ZircoDATA and our customers? 
Without giving away too many secrets… we do have a number of exciting projects underway that will deliver on next generation customer onboarding, further improve processes relating to how we engage and increase customer satisfaction and reporting.